A quick update on my blog… because we are so busy at home with our new parrot! 
Recently I ordered new business cards. Of course there's one business card with Guusje on it! And of course the rest is also with birds. I already showed them on my Instagram, but in case you missed it, here they are: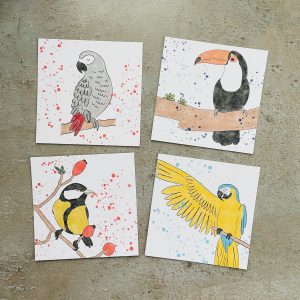 I also had a huge order, my biggest order so far: 1000 "Thank you" cards for Hareco dier en vriend.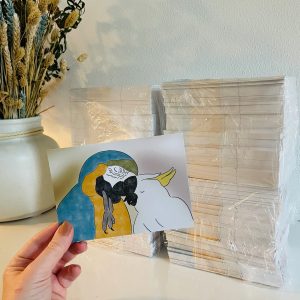 And then… two weeks ago I was asked if I wanted to adopt a parrot. I needed to think about it… for a couple of minutes! Of course I wanted to adopt him! His name is Micky, he is 24 years old and he came to live with us last weekend. We are so happy! I'll write more about it later – or you can visit @africangreyflock, my Instagram account for my birds, to see more.
For now, I don't have many time for Dionne's Designs… haha! We are all getting to know each other. And that takes up a lot of time. But I'll be in touch!